Cooling Fans, Power Points
Fans
I set up a 12 V oscillating fan over the table, behind the driver's seat. Its not a particularly good one, is rather noisy, and consumes about 1.5 A. But it does the job.
To supply the fan, I installed a 12 V power socket under overhead Cupboard 1, fed from the trunk cable near there (see here).
I took particular care to mount the fan in rubber to minimise noise. The fan control box gives two speeds of operation, and the oscillating mechanism is controlled by a lever on the body of the motor.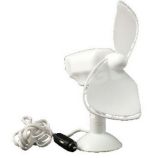 A second fan is mounted next to the Range Hood to provide air flow over the bed. It is a Caframo model 747 Ultimate unit. It has "finger-safe" blades and very low power consumption, less than 0.8 A on high speed.
The fan has a two-speed switch at the back and is connected to the back of the MSW Inverter in the cupboard above the rangehood.
However the fan speed, even on low setting, is too high sometimes. Since the current consumption is so low, a small variable speed controller from DealExtreme will do the job of controlling the fan. The unit is actually a lot more complex than a variable resistor and works well. It can be seen in the photo of the installation of the Caframo.
Power Point
On the wall below the fan and above the table, we have a new 240 V double pole power point in the same style as others in the van - Clipsal C2000 series with brushed aluminium plate. It is wired in parallel with one of the power points installed at the back of overhead Cupboard 1.
LINKS