A Journey Through The Kimberley
by Peter and Jannette Manins
published in The Wanderer ( http://www.cmca.net.au), September 2012, Vol 27, No 9, pp 22–24.
For 42 days, May–July 2012, we travelled from Darwin to Broome in a hired 4.5 litre Toyota Land Cruiser Troop Carrier fitted out as a Pop-Top campervan. We travelled to Katherine, Bungle Bungles, Wyndham, many Stations and Gorges along The Gibb River Road including Mornington Wilderness Camp, Mitchell Plateau and Kalumburu, and the Dampier Peninsula as far as One Arm Point. We had a great time, travelling 5303 incident-free kilometres.
There are many travelogues of such a trip and several have appeared in The Wanderer, but we thought you might like to read about some things that are not usually mentioned.
Navigation
We used Ron and Viv Moon's The Kimberley, An Adventurer's Guide, 2011, Hema Books' The Kimberley Atlas & Guide, 2008, and the Hema Maps iPad App 4WD Australia, 2012. The iPad App had the big advantage of showing us where we were, rather than where we thought we were, on the different tracks. However, at least one map on the iPad App was older than the Atlas map — that for Dampier Peninsula.
The Essentials – Fuel and Phone[?]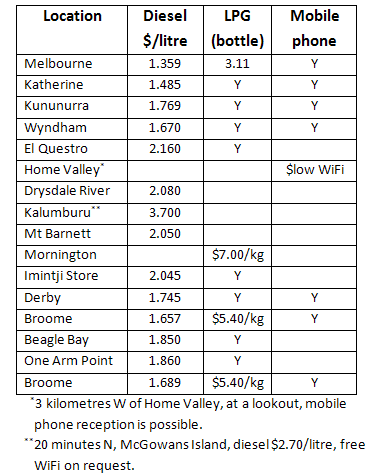 As you would expect, and the Table shows, diesel prices increase the further you are away from a major depot, but Kalumburu took the prize (see Figure 1). We had reports that it was even more expensive a couple of weeks after our visit.
Fuel consumption in the Toyota Troop Carrier varied between 11.4 litres/100 km and 12.7 litres/100 km, with no obvious dependence on road conditions or speed. The overall figure was 11.9 litres/100 km (8.4 km/litre).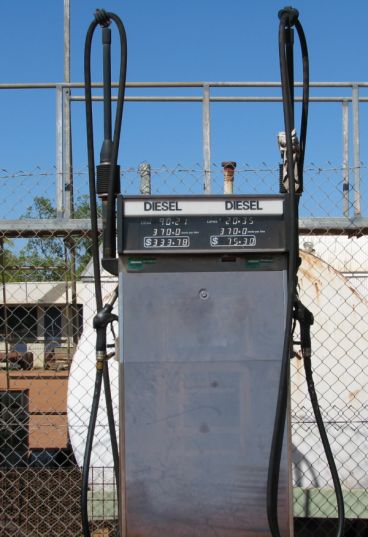 Figure 1. Diesel $3.70/litre at Kalumburu — the last customer planned poorly with a charge of $333.78!
Corrugations
Of the 5303 km travelled, about 60% were on dirt/gravel and about 70% of those were corrugated. Figure 2 shows a bad patch on the Gibb River–Kalumburu Road.
Several measurements showed that on most straight sections of road there were 9–11 corrugations per 5 m vehicle length, and on corners this could increase to as much as 20+ corrugations per vehicle length. Let's assume 11 corrugations per 5 m on average. So there were 5303 x 1000 x 60% x 70% x 11 / 5 = 4.9 million corrugations on the trip!
A special measurement set for the road between the fabulous Winjana Gorge and the amazing Tunnel Creek site gave an estimate of over 150,000 corrugations for the return trip of 70 km.
Dust
Being dry, the fine silty surfaces of the roads of the Kimberley mean that dust emissions due to wind or vehicles are extraordinarily high. The dust emitted due to our own and other vehicles gets into everything!
Fortunately we only met one road train on the whole of the Gibb River Road (Figure 3), but we suffered very many camper trailers. We were repeatedly overtaken by camper trailers going flat out and it sure seemed like they threw up much more dust than we did.
Dust emissions (E) from these Kimberley roads is dependent on many factors, but the mass (M) and speed (V) are the important vehicle-related parameters. As shown by Kuhns et al. (2003) and theoretically and in laboratory experiments by Shao et al. (1993)
E is proportional to M x V³
So if the vehicle speed was 95 kph (the camper trailer) rather than 75 kph (our Troopy) and the vehicle/trailer weight was 4 tonne rather than our 2.5 tonne, the emissions of dust would be three and a half times as much! If they slowed to 65 kph their emissions would be the same as ours and they would put the tyre and suspension repairers out of business.
Food
At Drysdale River Station camp we met a French couple sitting outside their van with an empty SPAM tin. They said that they had run out of food and their next stop was to be Derby to restock and then to return to continue their travels. That's a 960 km round trip mostly over corrugations!
We prepared by measuring for a week what staples we use and stocked up on these in Darwin to last at least 'til Derby. Our 40 L fridge limited the meat and veg. we could carry, and the battery did not allow us to freeze food. We replenished in Kununurra. Wyndham had a limited range but adequate supplies and was the only town after Darwin where frozen fish and crocodile meat were available.
Frozen meat packs (not good quality) were available at Drysdale River Station, Kalumburu, Mount Barnett Roadhouse, Imintji, Beagle Bay and One Arm Point. Frozen bread was also available.
Fruit was not available at the Stations but some was at the aboriginal community stores at Warmun, Kalumburu, Imintji and Beagle Bay. Prices can be high, but not outrageous — $2 for an apple at Kalumburu is the same price as (a better) one from a street stall in central Melbourne. We successfully stored fruit in a string bag, hanging from a corner roof clip when stationary.
Water
Potable water supply is not a problem in the Kimberley. There is no need to buy water. Every Station has good drinkable bore or spring water. National Parks generally have river access where it is wise to boil the water.
Medical
We took a comprehensive medical kit in the vehicle and carried a simple First Aid kit including elastic bandages with us on most walks; we used it a couple of times too. We needed our lip balm with sunscreen, and the air was so dry that moisturiser was a necessity.
If you are allergic to things such as grass seeds, etc ., then you WILL need antihistamine nasal spray or tablets — there are huge grass fields out there.
Problems with mosquitoes and sand flies varied enormously. On one occasion we were greatly troubled by mosquitoes in the evening but, as we did every night, when into bed we would wave our insect zapper bat around and clear the van of the blighters. Aerogard helped keep them at bay during the evenings, but the sand flies on Dampier Peninsula got Peter anyway and he only had some relief by using CMCA Member Cheryl's Bite & Sting Spray.
Temperatures
It's cold at night (between 4 and 13C), but only after some hours. This made sleeping a bit difficult since the doona or blankets required adjustment during the night. We needed track pants, warm jackets and jumpers for the cooler hours.
Why We Went
Yes, it really is like this (Figure 4) overlooking the Mitchell River Falls if you go early in the Dry Season. Spectacular.
References
Cheryl's Bite & Sting Spray. http://www.bitestingrelief.com
Hema Books (2008) The Kimberley, Atlas & Guide. 144 pp
Hema Maps (2012) 4WD Australia, iTunes Store for Apple iPad.
Insect Zapper Bat. Search www.eBay.com.au for "mosquito bat" for lots of choices.
Kuhns, H, Gillies, J, Watson, J, Etyemezian, V, Green M and M Pitchford (2003) Vehicle-based road dust emissions measurements. Proc. 12th International Emission Inventory Conference, San Diego, 29 April–1 May 2003, USEPA, 13 pp. http://www.epa.gov/ttnchie1/conference/ei12/fugdust/kuhns.pdf
Shao, Y, Raupach, M R and P A Findlater (1993) Effect of saltation bombardment on the entrainment of dust by wind. J Geophys Res., 98, D7, pp 12719–12726. http://www.geomet.uni-koeln.de/fileadmin/Dokumente/Arbeitsgruppen/Meteorologie/Shao__Yaping/pdfs/Shao_etal_1993_salt_bomb.pdf
Happy Travelling!