The Rear Door
Repair of Lock Striker
One day after a trip I found the upper striker plate assembly for the near-side rear door lying on the bed. On that occasion there was nothing being carried on the rear doors, but the extra load that we frequently impose when carrying bikes and other things undoubtedly was a factor in the demise of the spot welds.
A photo shows the striker plate and the main weld on it that tore off. The two welds on the side arm were much poorer than this one. Another photo shows how the main weld on the door tore off. The photo also shows two stages of the repair.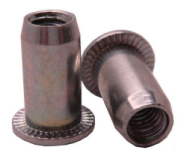 To repair the attachment of the striker plate I have used 8 mm diameter bolts and rivet nuts to install threaded nuts into the door. These are similar to over sized pop rivets and can be set in place using a similar tool to a pop riveter. One supplier is Sherex Fasteners though I obtained mine locally from Economy Bolts.
Having drilled out the holes in the door where the old spot welds were to 11 mm diameter, I used the method of ictjester to set the rivets using a bolt, nut and washer. The final result with the striker plate in position is shown in a further photo.
LINKS